You certainly don't have to be in the business to appreciate a good glass of red or white. With its intoxicating flavors and aromas, it's very easy for people to fall head over heels for a good glass of wine. Here we've compiled some of the cellars of the number one fans of this delightful beverage. Trust us, it's going to make you want to go sit by the fireplace, bundle up in a warm blanket and grab a glass of your favorite wine.
Source: www.urbasm.com
How about a wine cellar that mimics a larger than life cathedral church window? This is one of those projects where the designer really wanted to bring together the ideas of smart storage techniques and beautiful, artistic displays. The bright LED lights installed in this cellar makes it the perfect place to bring your guests down to pick out one of their favorite bottles for the evening. Talk about being  a fantastic host!
Source: www.diaryofane.com
Something about this cellar just makes you feel as if you are beneath the rolling grape vineyards of Italy. They really wanted that traditional style wine cellar in this home, with tons of different kinds of woods being used and the cobble stone style walls surrounding you. I think the most unique feature, is that they have decided to set up their own private wine tasting table in the middle of their cellar as well! What a lovely place to go to get some peace and quiet.
Source: www.homeozoic.com
So maybe you are just as big of a fan of the beverage as the people above, but you don't have all the space in the world to dedicate to your wine. Not to worry, this design is sure to work out for you! In limited spaces, you can use nooks and cranny's (like beneath the staircase) to turn into a little wine haven. Awesome way to keep it out of the way and organized, while still being able to easily access it all at the same time.
Source: www.onekindesign.com
Good books and good wine go hand in hand, literally. So clearly we have a upstairs library/downstairs wine cellar combo to show you! Feeling the need to unwind after a long days work? Well just make your way to the lower level wine cellar, pick out a nice wine, and pop upstairs to find a fantastic story to read! The placement of the two rooms couldn't be more convenient for us wine & book fanatics.
Source: Pinterest
Here is another example of a home owner using the space under their stairs as a dedicated, "relax & drink wine" area. Look at how small & simple yet luxurious this space is! I would love to sit back there to have some quiet time to myself. This just proves you don't have to have a ton of space to put some sort of wine cellar/storage area into your living quarters.
This a very modern take on a wine cellar. They wanted it to be in the middle of the action, and completely made of glass so they can all be easily seen. If you have an ultra-modern home and you are proud of your wine and the collection you've started, we suggest you go with the all glass wine storage cabinet you see above!
Source: www.houzz.com
Does it get any more rustic and amazing than this? Imagine taking your guests downstairs, and they are transported into a different part of the country. This cellar would do just that. It's as if you stumbled upon a little underground wine city in France, full of the most wonderful wines you've ever tasted. Why don't you stay a while!
Source: www.phototours.com
Ok, so it does get more rustic and amazing than the last one! Check out this cellar! The incorporation of cobble stone floors, old brick walls, and aged woods it definitely screams traditional style cellar. And the hundreds of clay pots hanging above you give you even more of an aged, old world feeling. If you've been dreaming of the perfect, traditional cellar- this is the one for you!
Source: www.myhomedecor.org
Forget under the stairs! How about LINING the stairs? Every step you take descending down or ascending up this spiral staircase will provide you with tons wine selections. Surely you will find one that you want to try out!
Source: http: www.onekindesign.com
I think this goes without saying, but this cellar truly takes the cake. I have never seen someone so dedicated to creating a certain type of atmosphere. They wanted you to feel like you were in a secret little part of the world; undiscovered by mankind, where only the finest of wines reside. The water features running through, the breathtaking & rustic pathway leading your your abode, the fog sweeping across the floors. It all makes the experience of running down to your cellar to grab a bottle, so much better and so much more exciting! I would be in here 24/7.
Source: www.design-laorosa.com
A hidden spiral cellar is a very innovative and organized way of storing your hundreds of bottles of wine. If you don't have any space inside to create a cellar, maybe you should figure out if you have the room and ability to build your cellar underneath. Not only will it be convenient and out of the way, but once you do decide to grab some wine, your in for a bit of excitement and adventure!
Source: Pinterest
If you want to take my wine, you'll have to pry it from my cold, dead hands. Maybe that's what the owners of this cellar/vault had in mind whilst designing this. What is more secure than a locked door? A bank vault door of course! Now there is no way anyone will be breaking into your cellar to steal your expensive wines.
Source: www.decorpad.com
This is the perfect wine cellar to invite guests into to relax and chat. Whether it be close friends, or partners your trying to make a business deal with, this room is sure to impress and keep your guests more than happy. The colors chosen, along with the wood and leather accents make this such a chic and professional place to mingle.

Source: www.renovationsoussol.com
Simple and practical designs can never fail you. This cellar was designed to do it's job, keep the wine organized and stored properly. If you are looking for normal wine cellar just to store your wines and not so much be displayed as a discussion piece, this is probably the best style for you to go with.
Source: www.tientas.com
This cellar has a bit of a Spanish flare going on. The adobe orange colored tiles and the the little cut out brick windows for the wines to sit looks so nice. If you also notice, this cellar truly isn't huge. So this would be possible to do if you are a bit more limited in space.
Source: Pinterest
Look at this design! Old world, royal and elegant in appearance. It looks like each section of wine is locked away in it's own cell. The long, stretching table that runs down the middle of the cellar makes it the perfect room to have guests come to dine over a glass of wine.
Source: www.chatodining.com
This is a very cozy, neat take on wine cellars. It appears to be a rather small room but it definitely doesn't lack in any other area than space. Every piece of furniture is placed perfectly, and the stone floors and leather seats make it feel so luxurious. What a wonderful place to sit and chat.
Source: Pinterest
This looks like they wanted to combine the idea of a wine cellar and a place to host small gatherings with friends. They decided to take an entire room and turn it into a wine room- rather than a cellar dedicating all it's space to wine. They placed the wine storage cabinet neatly in the corner, leaving the rest of the space to mingle, chat and enjoy your glasses of wine. Maybe even play some darts or sit at the table and gossip while your down there in the wine room!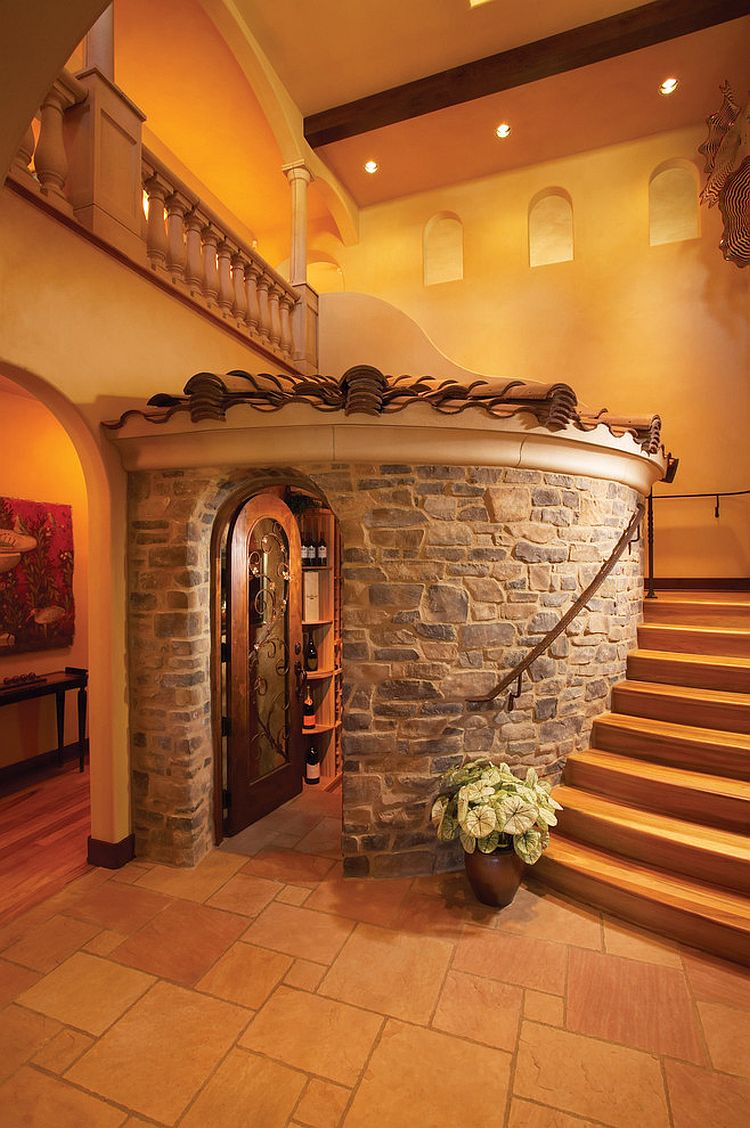 Source: www.decoist.com
This is a beautiful Mediterranean style cellar for those of you with this style of home. They also put the space under their stairs to use and turned it into a storage area to keep all their bottles, while at the same time decorating it with those Mediterranean feels and accents it needed to match the rest of their decor.
Source: www.beeyoutifullife.com
Here's an idea for the walls of your cellar! Most people like using brick, or some sort of stone in their wine cellars. Let's think out of the box. Why not use old wine crates/boxes that have been broken down to use as wall decor? It adds such a lovely atmosphere to your wine area and certainly would be a discussion starter with your guests.
Source: Pinterest
Wine and fireplaces are like the peanut butter and jelly of the sophisticated world. They just go too good with each other, it's almost difficult to have one without the other once you've experienced them both as one. After all, relaxing is all about unwinding, and getting comfy and cozy. So why not design your wine cellar to be the perfect, relaxing spot? Definitely go for the fireplace!
Source: www.homesavvyatoz.com/
Why just stop at the cellar? Let's make an entire dining room out of it! This room's design really showcases the wine well. Large, built-in, rustic storage shelves filled with wines of all sorts make for a beautiful backdrop while you're dining. More incredible details we can't ignore is that aged brick flooring and the very natural stone, cave like wall along the back.
Source: www.worldofarchi.com
This wine lover created their cellar walls with squares large enough to fit one bottle each. As you can see there are tons of wine squares, which means there is a lot of room for your bottles. This is perfect if you've been collecting for a long time, and have a bunch of wine that needs storing. Having the wine crates checkered along the one wall adds a ton of volume to the design of this room and makes it look a lot larger. Plus there's ample space for a get together if you feel like having guests over!
Source: www.worldofarchi.com
A mallorcan, spanish style wine cellar truly is a work of art and gives off a very aged and historic feel. It's like travelling back in time just to grab a bottle of fine wine. The bottles placed on their sides in the storage bins really maximize the storage capability of this room. This is all around a winner if you have a Spanish style home and plan on adding an awesome wine cellar!
Source: www.winegifted.com
This is completely different than all the other wine cellars we shared with you above. This storage unit exceeds ultra-modern, reaching a truly futuristic style of design. This is the Ellerman House Cellar in South Africa. Truly a piece of art to discuss over a glass of wine!
Comments